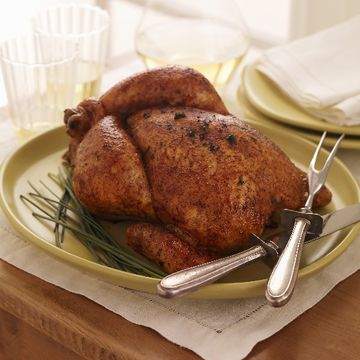 With the official start of fall less than a few days away, it's time to get ready for the best season of cooking. Even though it's just starting to cool down in Texas, we are looking forward to delicious warm fall comfort food. Addison Town Center in Addison has gathered our favorite fall recipes from Kroger that will get you in the spirit of the holidays.
Pumpkin Maple Roast Chicken
This Pumpkin Maple Roast Chicken will fill your home with delicious fragrant spells. Super easy to prepare and make, this is one of our favorite fall recipes this year. You can find all ingredients at Kroger in Addison.
Ingredients
1½ Tbsp. butter
1 Tbsp. canned pumpkin
1 Tbsp. pure maple syrup
1 tsp. ground cinnamon
1 tsp. dried thyme
½ tsp. sea salt
¼ tsp. freshly ground black pepper
1 whole chicken (4 lb.)
Method
To view the entire recipe, please click here.
Ginger Snap Pumpkin Ice Cream Cookies
This became our favorite recipe soon after we heard the name! Paired perfectly with ice cream, these cookies are sure to be a hit at your next Fall gathering.
Ingredients
3/4 cup Kroger® All-Vegetable Shortening
1 cup granulated sugar, plus extra for rolling dough in
1 large egg
2 tablespoons molasses
2 cups all-purpose flour
2 teaspoons baking soda
1 teaspoon ground ginger
1 teaspoon ground cinnamon
3 1/3 cups Private Selection™ New York Style Pumpkin Cheesecake Ice Cream
Method
To view the entire recipe, please click here.
Pumpkin Pie
It wouldn't be fall without a pumpkin pie, would it? We uncover the most perfect pumpkin pie recipe from Kroger.
Ingredients
1 unbaked pie shell (9″)
1 can (15 oz.) puréed pumpkin
1 cup vanilla almond milk
2 Tbsp. plain nonfat Greek-style yogurt
2 eggs
½ cup honey
2 Tbsp. Sucanat
2 tsp. cinnamon
½ tsp. pumpkin pie spice
½ tsp. ground cloves
Method
To view the entire recipe, please click here.
Fall is definitely our favorite time of year and these recipes are the perfect way to start celebrating the holidays. Head into Kroger in Addison, or visit their website, to find even more delicious recipes.
Kroger Addison
Monday – Sunday: 6AM – 1AM
Addison Town Center is offered by Weitzman. Weitzman is one of the leading commercial real estate companies in North Texas. Weitzman offers a full range of Commercial Real Estate services including Project Representation, Tenant Representation and Investment Sales and, is also a leading Asset Management and Development Services Commercial Real Estate firm.
Photo Source: All photos were sourced from Kroger